Welcome to the Timberline Review
The Timberline Review is an all-volunteer literary journal operated by Willamette Writers. We will not open for submissions for the 2021 issue until November 1, 2020. We will be looking for work  in the following genres:
Poetry

Fiction (flash, short story, novella, and novel excerpt)
Creative nonfiction (essay and memoir)
Critical commentary (annotation, book review, literary analysis, and craft instruction)
Scripts (Film and Theater)
Hybrid
Graphic novel
Visual art (b&w and color)
Issue #9–"Connections"
Our current issue is for on sale! Ask for it at your local bookstore or look for it online.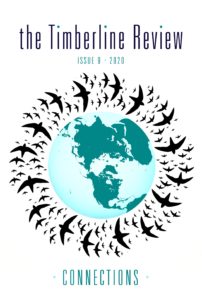 The Timberline Review is an all-volunteer literary journal published by Willamette Writers. Our focus is on showcasing emerging talent. This issue includes fiction, nonfiction, and poetry from Jeffrey Alfier, Roy Bentley, Christina Butcher, Grace Covill-Grennan, KC Cowan, Linda Drach, Heather Durham, Ann Farley, Kim Cooper Findling, Delia Garigan, Ash Good, Peter Grandbois, Michael Hardin, J.D. Hellen, John Hively, Madronna Holden, Sharon Johnson, D. M. Kerr, ky li, Barbara Liles, Dan Manchester, Daniel Edward Moore, Samantha Pilecki, Vivienne Popperl, Jenny Root, Janice Rubin, Peter Serchuk, Eric Paul Shaffer, Stephanie Striffler, Alida Thacher, Angelyn Voss, Judy Wells, and Key Welton.
Submissions for Issue #10 Open November 1
Submissions open until December 31, 2020.
Find more information and submit here.
New Editor-in-Chief
A grand welcome to Maren Bradley Anderson, our new Editor-in-Chief. Maren is a writer, teacher, and alpaca rancher who lives in the Willamette Valley of Oregon. She teaches literature and writing at Western Oregon University and writes novels. She was the chapter chair of Willamette Writers on the River. We are thrilled to have her on board!
What people say about The Timberline Review
♦
"In the Timberline Review, each poem and story is a beacon calling to the best in us to read deeper, climb higher."
— Kim Stafford, poet
♦
"Rarely does a new literary journal begin with such high quality…" 
— Eric M. Witchey, freelance writer/editor
♦
"New Pacific Northwest Lit Mag Reminds Readers of the Joys of Art for Art's Sake"  
— Melissa Oliveira, The Review Review
♦
The Timberline Review is a publication of Willamette Writers, the largest writing organization in the Pacific Northwest. Founded in 1965, Willamette Writers celebrated its 50th anniversary in 2015. The literary journal took hold as a way to celebrate that legacy, and we're still celebrating! Find out more About Us.
Join us on Facebook and Twitter, tell your friends, and get writing!