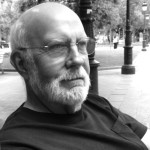 Doug Stone is a fourth generation Oregonian living in Albany, Oregon.  He worked in social services for 40 years and most recently was an analyst and consultant on public policy issues for states, AARP, and the Civil Rights Division of the US Department of Justice. Since retiring, he has been taking lots of road trips around Oregon, spending time with his grand kids, and taking classes at his alma mater, Oregon State University in Art and Art History. His poems have appeared in Fireweed, The Portland Review, The Oregonian,  Cloudbank, Fault Lines, Riven Poetry Journal, and the anthology, A Ritual To Read Together: Poems in Conversation with William Stafford. His new chapbook, In the Season of Distress and Clarity, is forthcoming.
• • • • •
What's on your nightstand right now?
After a recent trip to Montana that included visiting the Little Big Horn Battlefield National Monument, I'm reading Crazy Horse and Custer by Stephen Ambrose and Custer by Larry McMurtry.
Are you more likely to buy a print book or ebook?
Print. Words printed on paper have a feeling of permanence that electronic words on a screen don't have.
Tell us about your favorite bookstore.
For new books, Grass Roots in Corvallis. It's a small bookstore, very comfortable for browsing. For used books, the Book Bin, also in Corvallis. Whenever our grand kids visit, going to the Book Bin is a must.
What book made the biggest impression on you as a kid?
The strongest memory of a book for me as a kid is my dad reading The Spell of the Yukon by Robert Service to me. My dad had a very deep voice that was perfect for the thumping rhythms and wonderful rhymes of Service. I remember begging him to read "The Cremation of Sam McGee" over and over until, I'm sure, he was sick of it. But I still love that poem.
Give us an idea of your writing routine. Do you have a favorite time or place to write?
I usually write in the evening in the quiet of a small home office. The next morning I take what I worked on the night before to a coffee shop and make revisions. For some reason, the noise there isn't an issue. Maybe the need for caffeine overrides the noise.
Who's your muse? Who or what inspires you?
The Oregon's landscape, seasons, and weather are constant inspirations. I also enjoy Asian poetry and art, particularly the poetry of the Tang Dynasty poets, Li Bai and Du Fu and the art of the Sung Dynasty.
Besides writing, what's your passion?
Spending time with grand kids, taking road trips around Oregon and the Western US, researching Oregon history, taking Art History classes at Oregon State.