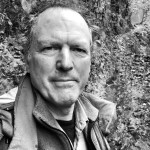 Kim Stafford is the founding director of the Northwest Writing Institute at Lewis & Clark College, where he has taught writing since 1979, and is the author of a dozen books of poetry and prose, including The Muses Among Us: Eloquent Listening and Other Pleasures of the Writer's Craft and A Thousand Friends of Rain: New & Selected Poems.  His most recent books are 100 Tricks Every Boy Can Do: How My Brother Disappeared, and Wind on the Waves: Stories from the Oregon Coast.
If you could spend a day with an author, who would it be?  
We don't know if he truly existed, but if he did, I would savor the presence of Lao Tzu, as he wrote the Tao te Ching in the border guard's hut: the far look, the flourish of his brush: An old book is the pivot point of meaning between feats of endurance.
What's your writing routine? Are you an early bird or a night owl? 
The morning starts with a walk through dark streets, a little rain or starlight, gathering thoughts, enigmas, questions…then the simple welcome of the blank page: The wild, perennial message of dreams—There is another way.
Who or what inspires your writing?
The powers and pleasures of thought, given an opening, brim forth in the language of the natural world woven through human custom: Water is always tying knots only the Houdini of water can release.